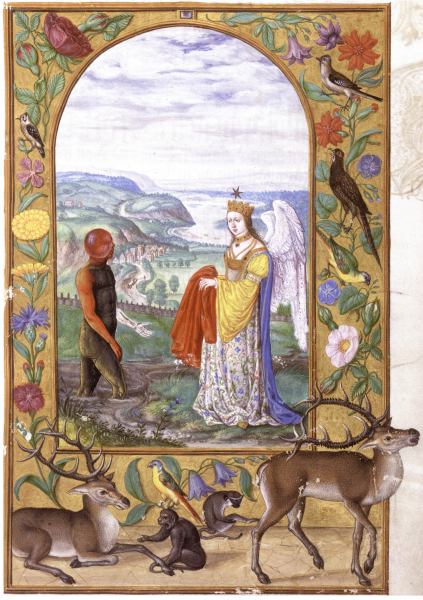 Splendour Solis (16th century).
"A man emerges from a swamp. One arm is white, the other red,
and his body black, thus incorporating the main colour changes
in the alchemical process. His head is metamorphosed into a
glassy sphere." (Adam McLean, the alchemy website.)
Alchemical rubedo coagulates into the "Carbuncle of the Sun" as all
the kingdoms of nature culminate in the crowning of consciousness.
~
Rosy-Gold
(The Mystery of the Grail)
~
The Grail is both a Cup and Stone,
feminine Wine and masculine Gold;
sulphur, red and yellow is fixed,
Spirit and Soul of consciousness.
~
The transcendent Sun shines all golden,
the Sol like Soul above this world;
immanent Spirit falls then rises,
green, black, white, red sacrifices.
~
Life, death, rebirth, and passion,
fill the Grail by distillation;
Gold untainted stays the same,
underlying awareness never changed.
~
Finding the Grail thus entails
the "separation" to be reconciled,
heart and mind, good and evil,
heaven and earth, male and female.
~
The collapse of two leaves me stunned;
confronted with One and only One;
a poisonous cloud of sulphur coalesces,
into Rosy-Gold of wedded Oneness.
*
The Ripley Scroll
~
"I AM DARK AND BRIGHT;
I SPRING FROM THE EARTH AND I COME OUT OF HEAVEN.
I AM WELL KNOWN AND YET A MERE NOTHING.
ALL COLOURS SHINE IN ME AND ALL METALS BY THE BEAMS OF THE SUN.
I AM THE CARBUNCLE OF THE SUN."
-THOMAS VAUGHAN,
COELUM TERRAE.